Our farmers are out working hard for you. We would love for you to take the time to get to know all our hard working farmers!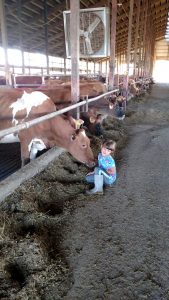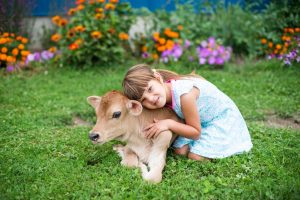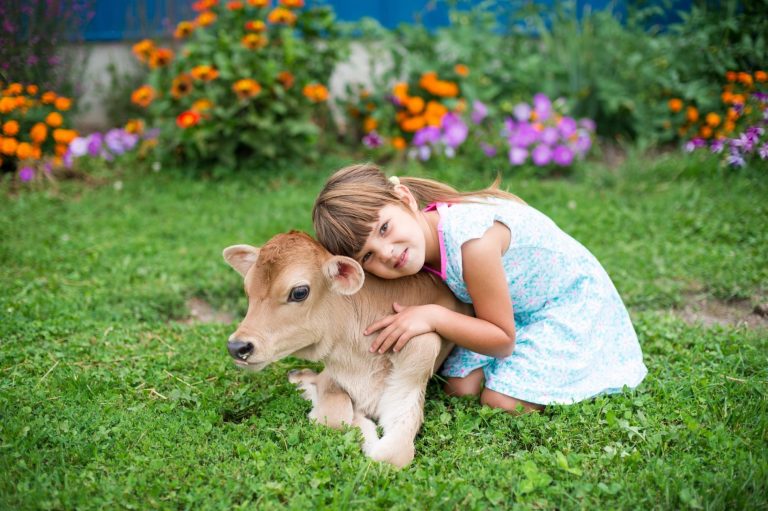 Meet the Sprow family, Jeff and Steve. They have been farming and living on the 800 acre farm in Ney since the early 1950's. The Sprow farm currently houses 50 cows. They have been selling their milk to Arps Dairy since 1979, and enjoy the partnership with Arps Dairy to bring customers a high quality locally made milk. In 2012, the Sprow family decided to modernize the milking process and invested in a Lely Robotic Milking System for their farm. The robotic system allows the cows to milk themselves whenever the cow feels it needs to be milked. According to Jeff Sprow, each cow on average milks itself 3 to 4 times a day. Below is a picture of the robotic milking system.
Meet the Huener family, where son Victor and father Lawrence run a 400 acre farm in Henry County, just past the Defiance County line. Lawrence, has been farming his entire life and running his own farm for more than 40 years! The Huener's have been selling their great quality milk to Arps Dairy since 1980. The 55 milking cows on the farm are milked with a Herringbone Double 5, which means cows are lined up in 2 rows of 5 and are milked, up to 10 cows at a time. This farm is dedicated to providing great quality milk and great quality cow care!
Meet Samuel Bok and his family. Samuel has been farming his entire life, in fact he got his first cow when he was 9 years old! Samuel, his son, his daughter, and granddaughters run a 1200 acre farm on the edge of Defiance. His dairy farming consists of about 470 cows which are milked on a Herringbone Double 12, which means cows are lined in up to two rows of 12 to be milked, which allows up to 24 cows to be milked at a time. The milk from his cows has been going to Arps Dairy for about 25 years now. His cows are a breed of Jersey cows, Registered Jersey Cows, which are high protein and high butterfat cows; his cows are the kind of cows you think of when you think about a dairy cow. His dairy farm is family run, and they take pride in their high quality calf care. The calves are always kept in environmentally controlled conditions. If it's too cold out, they are in a heated barn that is kept a constant 50 degrees. And if it is too hot out they are kept in a cooled barn at 50 degrees. They value high quality calf care and high quality milk production to provide you the best milk possible.






Meet the Kahle Brothers, Norm and Dave. Norm is the 5th generation to run the family's dairy farm which began in 1834. Norm and Dave have been running the family dairy farm for 30 years now, and for the past 8 years they have been supplying their milk to Arps Dairy. The 1500 acre farm is located in Putnam County and houses 80 milking cows. To milk the 80 cows, the Kahle Brothers use a Sawtooth milking system which allows 6 cows total, 3 on each side to be milked at a time. The Kahle Brothers take pride in running a 5th generation family farm and in providing great quality milk to all the consumers buying Arps Dairy products.
Meet Wiley, Dan, and Joseph ( Wiley's son who is 3rd generation) dairy farmers running Wilhelms Dairy. The Wilhelms have been proudly supplying their milk to Arps Dairy for over 25 years now. The Holstein dairy cows on the farm have been around since 1942, and they currently milk 50 cows in their Stanchion Parlor. In fact, as Dan and Wiley's kids grew up on the farm they would pick their 4H dairy cows out of the herd and take them to the Henry County Fair with the hopes of winning ribbons! The Wilhelms farm is 225 acres, 10 of which is full of apple, peach, and pear trees. The family sells fresh cider and 34 varieties of apples at their farm market across from the dairy barn, so be sure to stop by their farm and pick yourself up some fresh and local treats!



Meet Dave Inkrott, who has been farming his entire life! He currently runs a farm in Putnam County with 120 dairy cows! Dave has been selling milk from his dairy cows to Arps Dairy since 1995, and has truly enjoyed working with Arps Dairy. His cows are milked on a Surge Double 8 milking system, which is a similar set up to the Herringbone System, several of the Arps Dairy Farmers use. He is a proud producer for Arps Dairy, he is proud of the high quality milk, the family like atmosphere at Arps Dairy, and the constant support of the local community.
Meet Melvin Bok, another one of Arps Dairy Farmers. He has been farming for over 60 years! Melvin's father started selling the dairy farms milk to Arps Dairy over 25 years ago and since then Melvin took over selling the milk to Arps. Melvin's farm sits on 600 acres and he has 55 dairy cows which he milks. His farm is located just west of Defiance. Melvin is proud of his farm, his dairy cows, and the fact that his milk helps provide great Arps Dairy milk to families all around Northwest Ohio.
Meet William Stockman and family. He is the 6th generation on Stockman Farms. In October of 1960 Bill's father along with his grandfather started milking in a parlor for the first time. The family currently has 40 dairy cows on their 280 acre farm which is located on the Defiance County/Henry County line. Bill's father who is 84 still helps out on the farm along with Bill's wife Tammy and their son Troy. They take great pride in farming generation after generation and in providing milk to Arps Dairy for many decades.
Meet Steve Hurst. He has been farming for 42 years, and has been selling his tasty milk to Arps Dairy for 10 years now! He has 40 dairy cows on his Ridgeville Corners farm. The farm in total sits on 200 acres! In Steve's spare time when he isn't tending to his cows, he creates stained glass window masterpieces! He just made stained glass windows for a new church just south of Archbold, and is getting ready to make another set of windows for another church in the area. Steve takes great pride in his farm, his cows, his family, and his passion for creating stained glass windows.
Meet Terry Norden. He has been running his family farm for 32 years, while he and his family have been selling their quality milk to Arps for over 40 years! Twenty two years ago, Terry's wife Karen joined the Norden family, and she has been a large part of the dairy operation since. The Norden's milk their 55 cows 3 times a day in a Double 4 Herringbone parlor. Terry's 325 acre farm is located between Napoleon and Ridgeville Corners. Terry and Karen's children, Kyle and Grace help out on the farm when they have time. The Norden family enjoys holding farm tours for everyone from Preschoolers to College Students. Perhaps you have visited the farm on a tour before yourself!