November 1 Blog
Does anyone out there have a child who doesn't like to drink plain milk? My son won't drink plain milk, but if its flavored he loves it! Perhaps I am alone, but when I see "flavored" I think sugar…..so is it better for my son to not drink flavored milk and resort to other beverages or is it better for him to drink the flavored milk which has added sugars? Now I know I cannot be alone in pondering this question from time to time…So I did some research on dairygood.org and here is what I found…..
While nutrition experts recommend limiting added sugar in the diet, it's important to look at the full nutrient package when selecting a food or beverage. In fact, research shows that flavored milk contributes just 3 percent of added sugars to kids' diets versus sodas and fruit drinks, which account for close to half of the added sugar and deliver much less, if any, nutritional value.
Additionally, studies show that children who drink flavored milk do not consume more added sugar in their diets, but that they do drink more milk overall and meet more of their nutrient needs. Plus, just like white milk — chocolate milk offers important nutrients for kids' growth and development, like protein, calcium, vitamin D and potassium.
So, next time I will reach for the flavored milk at the store!
October 15 Blog
Hi again! I'm currently hard at work interviewing all the dairy farmers who sell their milk to Arps Dairy. I want you to get to know each farmer and a little something about each of their farms. This task is quite a big one of course as we have several dairy farmers to interview, but it is very interesting! Most of the dairy farmers have been farming their entire life, some have had their farms for multiple generations! Of course everyone's story is a little different, some have hundreds of cows some have less than one hundred cows, all the cows are milked in all different ways, there are different breeds of cows, and the farms in general are all different sizes. But, one thing they all have in common, is they work day in and day out, in all the weather conditions, 365 days a year, to bring our consumers the best quality best tasting milk possible. It's a huge undertaking and these farmers are dedicated to bringing you the best!
October 1 Blog
By Amy Fovargue
Arps Dairy of Defiance, Ohio has been serving milk to northwest Ohio schools for 80 years.
"At Arps Dairy we get raw supply from individual dairies within our community. The milk is [literally] coming from the farmer down the road. We have a lot of loyalty with our brand, because we have a local mentality in our area. We are big supporters of our schools and especially the children of our community. We do a lot of donations to the schools for the proms, band boosters, and athletic boosters," said Adam Donaldson, Vice President of Arps Dairy.
During the school season Arps Dairy produces 3.5 million units of half pints of milk with the majority being used at schools. "We go above and beyond with our deliveries as our drivers are on a first name basis with the school cooks. We pride ourselves on being there for the schools from products to delivery. The school's primarily purchase half pints, fluid milk and some buy our bulk sour cream and cottage cheese." Donaldson said.
In the summer months the milk is used to make ice cream as the demand for ice cream goes up. "When volume slows down for half pints the volume goes up for ice cream. We serve primarily to Defiance, Putnam, Henry and Paulding counties. Although, some of our products are distributed in Columbus, Toledo and parts of Indiana and Michigan," Donaldson explained.
September 15 Blog
As I sit this week writing my blog, my daughter just turned 4 years old a few days ago. Where did the time go, I have no idea! It seems like I just brought her home from the hospital yesterday! But earlier today, I took her for her 4 year old well checkup. When you get back in the room, and the Dr comes in, every visit when they are so small, starts with a million questions for me to answer….does she know her alphabet, does she know her shapes, can she speak in sentences, is she potty trained, does she nap, how long does she sleep at night, is she a picky eater…..followed up by……does she drink milk, does she consume dairy products, what dairy products does she consume? What was my response to these you might ask??? She does drink milk but not unless it's flavored such as strawberry or chocolate, and even then she only drinks like a glass a day! But when it comes to whether she consumes dairy products, she most certainly does! She can down a container of Arps hand crafted cottage cheese like no one's business! She also loves to have Greek yogurt and cheese and crackers at lunch every day. Does anyone else out there have a kid who isn't big on milk but yet is big on dairy?
September 1 Blog
At Arps Dairy we are always striving to connect with the local community. We have been around for a very long time, and that is all thanks to our local community and all their support over the years. In today's world, there are so many choices when you go to the store to purchase your dairy products. Everyone is flooded with information about products and new trendy products. Sometimes I go to the store and just stare at all the choices for a particular product and literally think to myself, which one am I going to buy? How can there be so many choices for something as simple as butter??? Doesn't everyone think this or am I just crazy??? But at Arps Dairy, we would just like to thank you, that when you go to buy your milk, or sour cream, or chip dip, or other dairy product, and you see the Arps product sitting amongst the crowd, you reach for the Arps Dairy feeling confident you are making a great quality great tasting purchase! Sending lots of love to our local community and beyond! From our cows and creamery to your table!
August 15 Blog
Do you care about our environment? Do you strive to be environmentally friendly? Are you concerned about greenhouse gas emissions and global warming? Then this will interest you! Did you know Arps Dairy uses a cold separation system in the plant to separate the milk? Most creameries in the US use a hot separation system to separate their milk because it increases the capacity of the production line, so they can produce even more mass quantities of milk. But Arps chose a different system because Arps believes that taste trumps production capacity. To us, it just makes sense to use a cold system because bacterial growth is actually lower at cold temperatures and it takes a lot of energy to heat up the milk. Also when the milk is heated it impacts the proteins found in the milk. So the less heat the better to maintain the proteins! So by cold separation Arps is able to use less energy and keep a higher quality better tasting milk! Try some today, I can taste the difference, can you?
August 1 Blog
Do you know when you go to your local store and pick up a bottle of Arps Farm Fresh Milk or any other Arps Dairy Product you are supporting your local community and your fellow neighbors? It is indeed true. By buying local you are supporting your local economy by keeping money in your area that would have otherwise gone to a large company outside your area. What does this mean for you? That means the money that goes to the local company thanks to your purchase goes to pay the salaries for the local workers, who in turn go out into the local economy and buy products, donate to charities, and pay local taxes. All of which improve your area! So next time you go out to pick up a loaf of bread, or a gallon of milk, why not think local. After all, local simply tastes better!
July 15 Blog
Do you like to give back to your community? My family and I like to help others. Especially during Christmas we like to help others. We buy kids gifts whose parents can't afford to make their Christmas special. We donate money to local shelters for the less fortunate to have a Thanksgiving dinner. We buy food for our local food pantry so others can come pick up what they need to make Christmas dinner. We try to make it a learning experience for our kids in kindness and giving. They are too young to really understand, but we hope someday they will realize how fortunate they are and how they can help the less fortunate around them.
Well, at Arps Dairy, the owners realize how fortunate Arps is to have such a loyal following and a great supportive community, so they also realize they can give back to the community! Did you know that Arps donates milk and some of their other products on a weekly basis throughout the year to a local food bank in Defiance. Arps Dairy cares about the community and those in the community, it's what being focused on local means, taking care of your community and helping others.
July 1 Blog
I exercise at minimum 4 days a week. For me, exercise is a stress reliever, me time, and social hour all in one! On Mondays, I spin on a bike and sculpt with weights. On Tuesdays and Thursdays, I take a sculpt interval class. And then on Wednesdays, I train with a personal trainer and a partner. My partner whom I train with, always tells me, "we don't eat sandwiches, we can't eat sandwiches, all that bread is terrible for us it's just empty carbs"…… But what we do indulge in??? Chocolate milk! After a great workout, a glass of ice cold chocolate milk is the perfect way for our bodies to recover! Did you know that according to Dairy Goodness,
"Chocolate milk contains no more sugar than unsweetened apple juice and only a very small amount of caffeine found naturally in cocoa. Its balance of protein and carbohydrates makes it an ideal post-workout recovery drink, and just like white milk, chocolate milk contributes to the health of our teeth."
June 15 Blog
Sometimes my kids and I go to a dairy farm to visit. It's always a fun trip, but more importantly its educational, not just for my kids but for me too! My son's favorite place to visit at the dairy farm is the "milk parlor". What is a milk parlor and why you might ask? A milk parlor is an area where dairy cows go 2 to 3 times a day to be milked. The farmer uses a special machine to milk the cows so they all give just the right amount of milk. Each cow is milked for about 5 minutes! And believe it or not the cows really look forward to being milked!
June 1 Blog
Did you know that at Arps Dairy our cottage cheese is literally "hand crafted"? In fact that is one way our cottage cheese is different than our competitors. Each batch of our cottage cheese is hand stirred and hand scooped into buckets to be dumped into the machine for packaging, rather than being vacuum scooped into the machine to be packaged. So you might ask what the difference is. We think by hand scooping it we are breaking up less of the curds! Quality is so important to Arps Dairy, so we take time to hand craft our cottage cheese to make it taste yummy for you!
May 15 Blog
Who out there loves pizza? My family loves pizza! We love the deep dish pizza, the thin crust pizza, and the traditional crust pizza! The problem comes when it's time to order the toppings for our pizza! My husband and I like grilled chicken, peppers, red onion, black olives, and banana peppers. BUT….my kids, they just want pepperoni and banana peppers! However, one thing we can all agree on is that we all love the cheese on our pizza! Who doesn't love cheese on their pizza! Did you know that it takes 170,000 cows to produce enough milk for Pizza Hut cheese annually? That is a lot of cows and a lot of cheese! I guess everyone does like cheese on their pizza right!!!!
May 1 Blog
We had a little appetizer party for some friends last weekend. It was so fun, everyone makes a few appetizers and brings them over! We enjoy food, drinks, and the conversation! My husband says I always go way overboard when entertaining, which is probably true, but I enjoy it and I want people to remember their time in my home! I made stuffed mushrooms and sweet mini peppers, a feta dip, and a buffalo chicken dip. I would like to tell you my trick for the buffalo chicken dip for today! I made it from scratch. And my recipe called for a cup of sour cream, and I check my fridge and I am flat out of Arps Sour Cream…….ahhhh what am I going to do????? I scour my fridge and find an Arps French Onion Dip…..this will work perfect! I substituted the sour cream for the French Onion Dip and it tasted amazing! It added an extra zing of flavor and everyone enjoyed the appetizer party and I avoided a crisis!
April 15 Blog
Ever wonder what it's like to be a dairy farmer's wife? I'm not one, I can tell you about what it's like to be a civil engineers wife, but it's not that interesting trust me! I searched and searched to find a blog out there about the topic, and here is a cute one I found. Here is an excerpt from a dairy farmer's wife blog. Sometimes I feel like it's hard to write about something I've become so used to. Farm life is still filled with oddities; I don't quite fit in. But so many of the abnormalities have become mundane. I don't even notice anymore. No dinner till 8? Totally normal. Husband's clothes covered with caked-on manure? Just don't sit on the couch. Tractor parked in my driveway? Old hat. Incessant mooing coming from the barn on the hill? Just another Tuesday. Dinner conversation about bull semen? Pass the green beans. At some point, unbeknownst to me, I morphed into a farm wife. It's like turning into a werewolf at midnight but with less body hair and more corn kernels in the laundry. I still don't bake pies, milk cows, or wear a gingham apron, but this crazy life has become my real life. Written by The Modern Farm Wife, Jessica blogs about her life regularly, and you can read all about it at modernfarmwife.com. Her husband's Dairy Farm is in Michigan.
April 1 Blog
I am a bit of a health nut. Or a big health nut actually. I exercise 4 to 5 days a week and eat really pretty healthy. I have some stomach issues which forces me to eat rather healthy to begin with, but I also work too hard at the gym to toss it out the window when it comes time to eat! But I do love my desserts! Growing up we always had dessert of some sort after dinner. So when I got married, I started the same thing! My husband thought it was insane at first that we always had to have dessert, but now the tables have turned and he expects dessert after dinner! My youngest child, loves milkshakes and so do I. So I found a way to make healthier milkshakes for an after dinner dessert, and my family drinks them right up!!! So, I thought I would share the recipe with you. Take some ripened bananas, like almost so ripe you would toss them in the trash. Peel them and freeze them. For each milkshake you will need about 2 bananas. Put the 2 frozen bananas in a blender along with about ¼ cup of Nutella (for a chocolate milkshake, is there really any other flavor???) and some Arps Milk (once again is there any other milk better than Arps!!!). I usually pour in the milk just enough to cover most of the bananas. Then you blend on high for a minute or so, and poof you have a chocolate milkshake made with fruit, Nutella, and milk! Enjoy!
March 15 Blog
Doesn't everyone just love that warm and fuzzy feeling that you are living in a great place and that your life is just going great? What things that happen in life give you the warm and fuzzies?? When it comes to getting the warm and fuzzies that you are a part of a great community, what variables need to fall into place? For me, number one is safety. I want my family and me to feel safe. I want my kids to be able to run around and play outside and not be scared. I want to go to the store and not be worried while I'm in the parking lot or in the store. And second, community involvement. I want to live in a place where there are thriving local businesses that give back to their local community! When you buy local, not only are you helping the business, but you are in turn helping your local community. The money stays in your community rather than going to another city or even yet another country. Arps Dairy has placed community as one of their most important priorities. We are involved in several different community celebrations and events and parades. And we also, donate milk weekly to a local food pantry to help the less fortunate in Defiance. We care about our local area, we want our community to thrive, to grow, and to love our locally made and hand crafted products. Doesn't that just give you the warm and fuzzies!
March 1 Blog
All of Ohio's dairy farmers are dedicated to providing Ohioans with safe, high-quality milk and dairy foods. Their commitment to quality also means caring for the animals and the land. All dairy farmers have a stake in following regulations and best management practices to protect the health of their families and their cows, and to maintain the quality of their product. As dairy farmers, they live on or near the land that their families farm, they understand the importance of protecting natural resources. They depend on this land for their farm and their quality of life. Dairy farmers actively recycle manure to help control odor in the community. The dairy industry works with industry manufacturers, university researchers and other experts to find innovative ways to reuse their resources. Dairy farmers also are responsible users of water in our milking parlors, in water storage and in recycling. So, your local dairy farmer is actually trying to preserve the environment and is constantly making strides to improve how they can conserve and reuse resources! Perhaps you could say Ohio's dairy farmers could be called Ohio's Green Dairy Farmers! ……..Elizabeth Laeng……
February 15 Blog
Ever wonder how many dairy cows there are in Ohio? How many dairies there are in Ohio? In Ohio there are 270,000 dairy cows who live on nearly 2,800 dairy farms located throughout the state. The average herd size is 86 cows. In 2013, Ohio's dairy cows produced 630 million gallons of milk, making Ohio the 11th in the nation for total milk production. So, that makes the dairy industry very important to Ohio's economy, especially since the Ohio Dairy Industry has created 14,350 jobs for Ohioans. That's a lot of cows and a lot "moore" milk than I ever imagined! …….Elizabeth Laeng…….
February 1 Blog
I'm a mom of two, a wife of a civil engineer, a Real Estate Agent by day, and an Arps employee by night??? But that sounds insane, so it's better to say when I am not watching my son's sports games and practices, not making snacks for my three year old, and not cooking, cleaning, and doing endless laundry while my husband runs multimillion dollar projects, I'm talking Real Estate and Dairy…… Now what in the world does Real Estate and Dairy possibly have in common? That's a great question, I have even pondered myself….First, they both are essential for life, you need a place to live and you need calcium for your bones and body! And secondly, I happen to be the Assistant to a Real Estate Agent whose husband happens to be a Dairy Farmer, they both naturally love me, and both want my sharp mind, and great ideas…hahaha…….so here I am. In all honesty, I did not grow up on a farm or around farm animals. I don't know farm terms or cow types off the top of my head, but I am learning! All I know is that when I go to the store to buy milk and other foods for my family, I am always looking for healthy and safe choices, much like I am sure you are. So while my knowledge of dairy farming and milk is evolving, I would love it if you can learn with me, as I am sure that in the end we all want the same thing, safe and healthy and fresh choices we can give to our families. And I can assure you Arps Dairy provides high quality, fresh, and local products for your family to enjoy.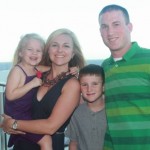 This is me and my family on our cruise vacation earlier this month.
January 15 Blog
Welcome to my blog! There will be a blog posted every other week on the Arps Dairy website, so I invite you to check it out and share it with your friends! If you don't know much about dairy or are interested in learning more about the dairy industry, this is the blog for you! Up until recently I also did not know much about the dairy industry, and it's actually very interesting! Before taking on this task with Arps, I would have told you milk is milk, it doesn't matter the brand. I shopped for milk based on the price and the expiration date. But now as I am learning more, I am discovering there is more to milk than the price and the expiration date. So, I invite you to learn more about the farms producing great Arps products and for you to learn along with me all about the dairy industry! ~Elizabeth Laeng