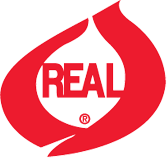 It takes true commitment and dedication to ensure that we are supplying our consumers with the best quality products. Through the support of Real seal we are able to provide a guarantee that our products are held at the high standards. With real seal we also are guaranteeing the consumer that you are receiving good, wholesome products from our dairy's. "When you see the REAL® Seal on a dairy product or in a store or restaurant, you can trust it's the real thing, and not an imitation."
Not only does the consumer know that the milk products we sell contain whole milk products but also that the cows and milk is raised and producer with a set of strict guidelines to make sure that you are eating the best we have to offer.
The REAL® Seal products are made in the United States, as for Arps Milk we can tell you our milk is not only made in the United States, but it is made within 30 miles of our processing plant. We keep our cows local and we want to allow our consumers to know where there milk comes from.

We at Arps Dairy would like to thank REAL® Seal Dairy for featuring us in their newsletter as well as on their Facebook page. We are very thankful to associate with the REAL® Seal dairy, to make a difference in our dairy industry. From setting guidelines for our producers to ensuring customers get the most wholesome milk products. We at Arps Dairy are thankful for your support.
Please check out the REAL® Seal website to learn more about what it means to see this on your dairy products.