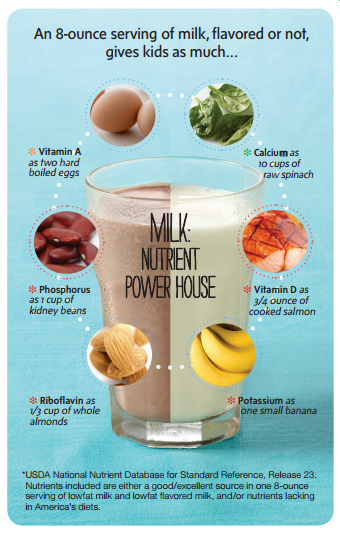 There is a nutrient gap in America because many of our families are filling up on empty calories instead of essential nutrients. In fact, more than 9 out of 10 Americans aren't getting the essential nutrients they need. The nutrients in milk can help fill that gap. Low-fat milk is an excellent source of calcium, vitamin D, riboflavin and phosphorus, and a good source of protein, potassium, vitamin A, vitamin B12 and niacin.
In fact, an 8-ounce serving of milk flavored or not, gives the consumer as much…
Vitamin A as 2 hard-boiled eggs
Calcium as 10 cups of raw spinach
Vitamin D as ¾ ounce of cooked salmon
Phosphorus as 1 cup of kidney beans
Riboflavin as 1/3 cup of whole almonds
Potassium as one small banana
But with water, juices and nutrient-void sodas on the shelves, American families (and kids in particular) might not be drinking as much milk as you think. In fact, recent research suggests that only kids ages 1-3 are actually meeting their recommended daily servings (Kranz S, et al. J Pediatr. 2007;151:646-646.).
Did you know that…
According to Moshfegh A, et al. (U.S. Department of Agriculture, Agricultural Research Service. 2005.), 9 out of 10 teen girls and 7 out of 10 teen boys don't get the calcium they need.
According to Bailey RL, et al. (J of Nutr. 2010; 140: 817-822.), 7 out of 10 teen girls fall short in vitamin D intake.
According to Moshfegh A, et al, 2005, 97% of Americans don't get the potassium they need.
Flavors Help Prevent the Switch:
Low-fat flavored milk helps families and children make a nutritious beverage choice. Data show that kids choose flavored milk 70% of the time. The nation's leading health and nutrition organizations and the Dietary Guidelines for Americans recognize the valuable role that milk, including flavored milk, can play in meeting daily nutrient needs. In addition, they recognize the small amount of added sugars in flavored milk is an acceptable trade-off for the nutrients provided.
The Real Story On Sugars:
Flavored milk contributes just 3% of added sugars to kids' diets. Sodas and fruit drinks, on the other hand, account for close to half of the added sugar, delivering much less, if any nutrition in the process (NHANES (2003- 2006), Ages 2-18 years). And best of all? Studies show that children who drink flavored milk meet more of their nutrient needs and do not consume more added sugars or fat than non-milk drinkers (Murphy MM, et al. J Am Diet Assoc. 2008;108: 631-639) and (Johnson RK, et al. J Am Diet Assoc. 2002;102:853-856).
The Bottom Line:
Your family needs to drink more milk! You simply can't find a beverage that offers the same nutritional benefits as milk. Even if you need to purchase flavored milk, you are better off as your family will still consume the 9 essential nutrients inherent in milk than if you drank other nutrient-void drinks.