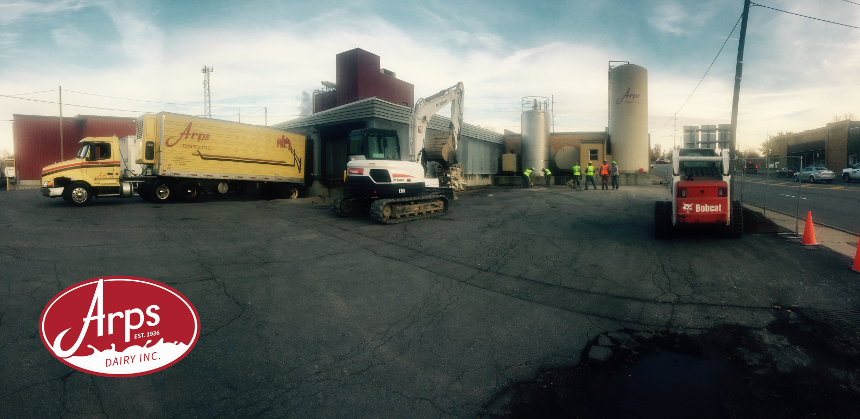 DEFIANCE – Arps Dairy broke ground on 11/7/2017 at their 220 N Clinton St location for an expansion project which is expected to last six to eight weeks. The project will erect two additional silos which the dairy needs to increase the capacity of their raw milk.
According to Denny Roehrig, Vice President of Production, "We are excited to break ground on this project as it will increase our raw milk storage and greatly assist us in serving our customers with the highest quality dairy products possible."
"We have been planning this expansion for some time, working with a number of individuals from the City and State to architects and general contractors," commented Adam Donaldson, Vice President of Sales and Service. "Everyone has been extremely helpful and we are grateful for their assistance in helping get this much needed project off the ground."
Those who frequent Clinton St. often will notice the construction on the Northeast side of the Arps Dairy building. The highlight of the project will be shortly before Thanksgiving when a large crane will lifting the new silos into place.
Arps Dairy, Inc. is a full service fluid dairy that processes, packages and distributes a full like of fluid and cultured dairy products. The business was founded on the George Arps farm, north of Defiance, Ohio in 1936. Today, just as they did, Arps Dairy, Inc. still obtains their raw milk from local dairy farmers who pledge to be antibiotic free, participate in the F.A.R.M. program which sets the standards for animal care, and operate in a manner which produces the highest quality milk in the most responsible way possible.