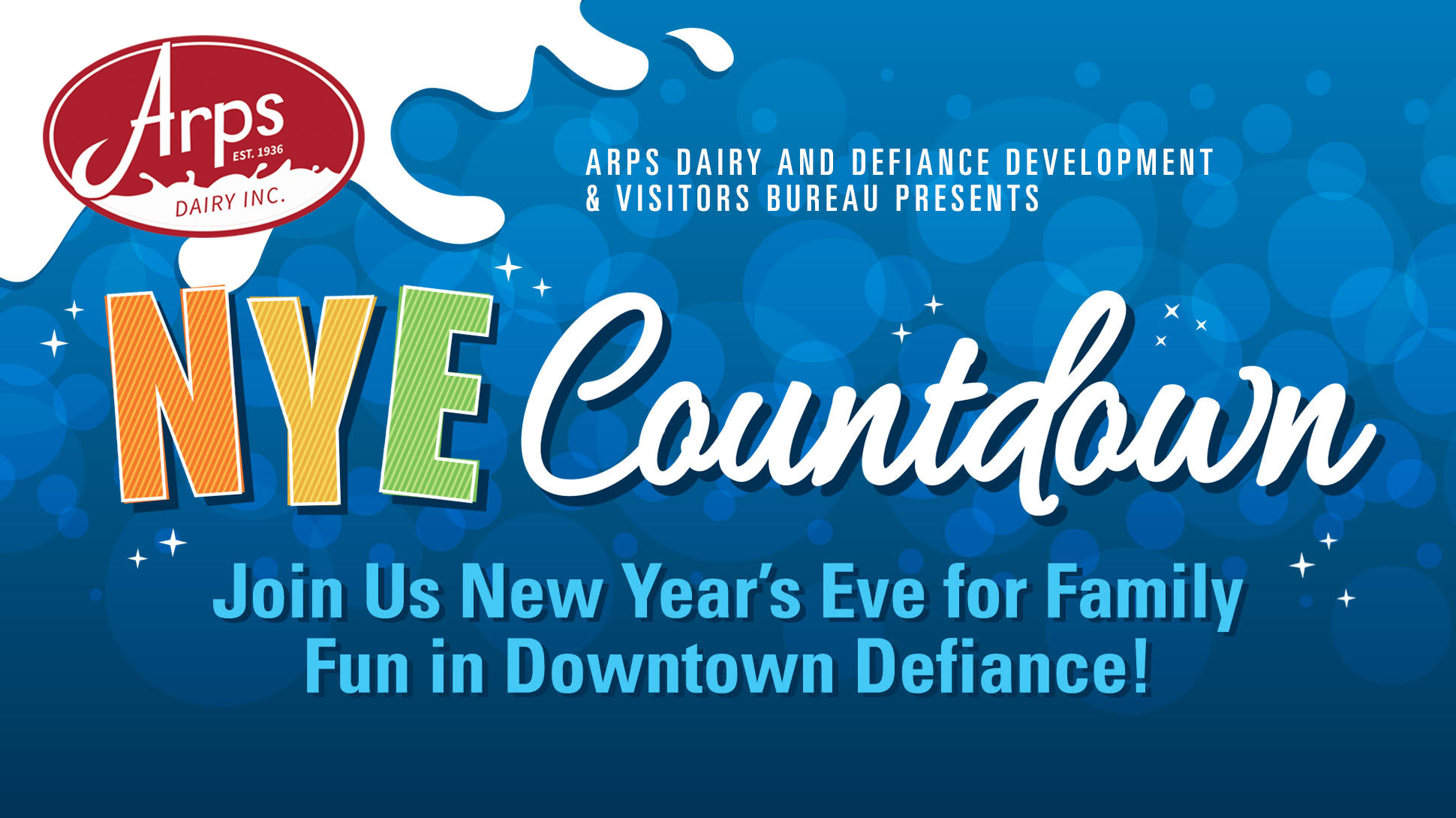 In case you haven't heard, Arps Dairy (in conjunction with the Defiance Development and Visitors Bureau) is hosting an inaugural Time Square inspired NYE Countdown event in the streets of Downtown Defiance on December 31, 2017. This is a fun, family friendly event that will no doubt help to ring in the new year on a positive note! The NYE Countdown event will take place at Triangle Park at the corner of the Clinton St. extension and Arabella St. Some highlights of the event include:
Live Entertainment by 56DAZE
Since 2002, 56DAZE has been exciting audiences all across Northern Ohio, Southeast Michigan, and Northern Indiana with their amazing live rock show. They are incredibly versatile and will literally drive their show through decades of danceable rock & roll favorites. From the rock classics and 80's dance, to the 90's alternative and today's modern rock, they have a little something for everyone. They can even play some tunes for those country music and reggae lovers as well. Their goal is to create ENERGY through their live music performance.
56DAZE will be performing from 9:00PM – 12:30AM
Sam Hornish Jr. Counting Down the New Year
Defiance, Ohio legend Sam Hornish Jr. will be counting down the seconds to 2018! Sam Hornish Jr. is a professional stock car race driver who currently competes part-time in the NASCAR Xfinity Series, driving the No. 22 Ford Mustang for Team Penske.
The Keller Logistics Ice Skating Rink and Soles4Souls Shoe Drive
Keller Logistics will be sponsoring a synthetic ice skating rink designed for fun for the entire family! The Keller Logistics Ice Skating Rink will open at 8:00AM on Dec. 31 and will also be open on New Year's Day from 11:00AM – 5:00PM. In addition to the ice skating rink, Keller Logistics will also be hosting a Soles4Souls shoe drive. According to individuals from Keller Logistics:
"Keller Logistics Group, Inc. is proud to serve as a donation processing center for Soles4Souls. Founded in 2006, Soles4Souls is a global not-for-profit institution dedicated to fighting the devastating impact and perpetuation of poverty through the distribution of shoes. Through the collection and sale of used (and new) shoes, Soles4Souls helps create self-sustaining jobs that generate desperately needed revenues throughout impoverished communities, both in the United States and worldwide.
Almost anyone with a closet has shoes they don't wear, or an old pair that will just end up in a landfill. Donate them knowing that you are taking a step to making the world a better place for all of us.
Please bring your new and gently used shoes to our shoes donation drop off site located at the Keller sponsored Glice Skating Rink Between the hours of 8:00PM-Midnight New Year's Eve, and 11:00AM – 5:00PM New Year's Day."
The Defiance Optimist Club Beer Tent
The Defiance Optimist Club will set up and run the beer tent beginning at 8:00PM
For more information and a complete listing of all activities scheduled for the inaugural Arps Dairy NYE Countdown, please visit the official event page at: http://www.arpsdairy.com/arps-dairy-nye-countdown/