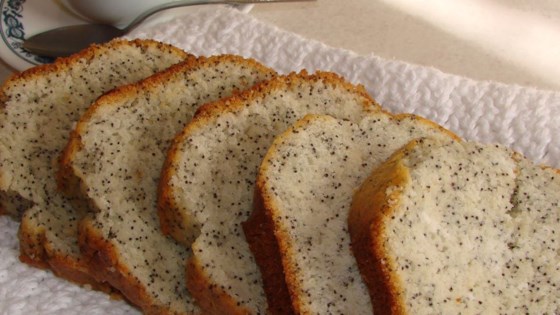 Do you ever struggle to use up all of the milk in your fridge? We know some do, and we hate seeing food go to waste, so we want to continue on our series, Ways to Use Up a Gallon of Milk. In part one of this series we discussed whipping up your very own ball of homemade mozzarella, and in part two, we discussed Jamie Oliver's Chicken in Milk recipe which calls for roasting a chicken in a big pot with close to a pint of milk, a lot of lemon zest, a cinnamon stick, and unpeeled garlic cloves. If you haven't yet checked out the first two parts of this series, you really should because you are totally missing out!
In this part (part three) we will be showing you how to make some fresh, warm bread. Did you know that your bread can be made with lots and lots and LOTS of milk… if you so desire, that is. My favorite is this Soft Poppyseed Milk Bread – and that 'soft' in the name really doesn't do it justice. Bake this and serve it fresh, covered with butter and jam, and you will not regret it. This tasty soft loaf incorporates milk for taste and poppy seeds for crunch. The kids (and you) will love it as a base for sandwiches, or toasted in thick slices and slathered in butter for breakfast. And just remember, there really is nothing quite like the smell and taste of homemade bread.
Ingredients:
2 ½ cups milk
1/4 cup shortening
1/4 cup white sugar
1/4 tsp yeast
1 tsp salt
1 egg, beaten
3 cups bakers' flour
3 ½ cups plain flour
Poppy seeds
Method:
Heat milk in saucepan until it's hot, but not boiling – take off the stove and add the shortening and sugar, stir and set aside until shortening has melted and the mixture is warm/tepid.
Add yeast, salt and beaten egg, then slowly add and mix in the bakers flour until smooth. Set aside for 10 minutes.
Put plain flour in your stand mixer or in a large bowl. Gradually add the bowl of wet ingredients until all combined and then knead for 5 minutes in your mixer on lowest setting or 10 minutes by hand. The mixture should be elastic in texture.
Grease two bowls with kitchen spray and divide the mixture into each. Spray top of mixture lightly with kitchen spray, then cover with cling film. Leave to prove until doubled in size (anywhere from 1 – 3 hours).
When doubled in size, preheat oven to 200°C.
Take out, and roll into shape of your bread tins and then roll in poppy seeds. Score diagonally onto to account for rising to prevent splitting. Bake in oven for 30-35 minutes.
Take out of the tin and allow it to cool on a raised tray, before slicing and serving.
Notes:
This wholesome bread is great served warm with butter for straight out of the oven – the kids will love it.
Try different types of seeds to poppy seeds for different textures and tastes. Or combine them in the mixture for a healthy boost of flavor.
Get the kids involved in the kneading process – they'll have a great time pushing and pulling the dough.
This recipe was created by Melissa Klemke for Kidspot, Australia's best recipe finder.