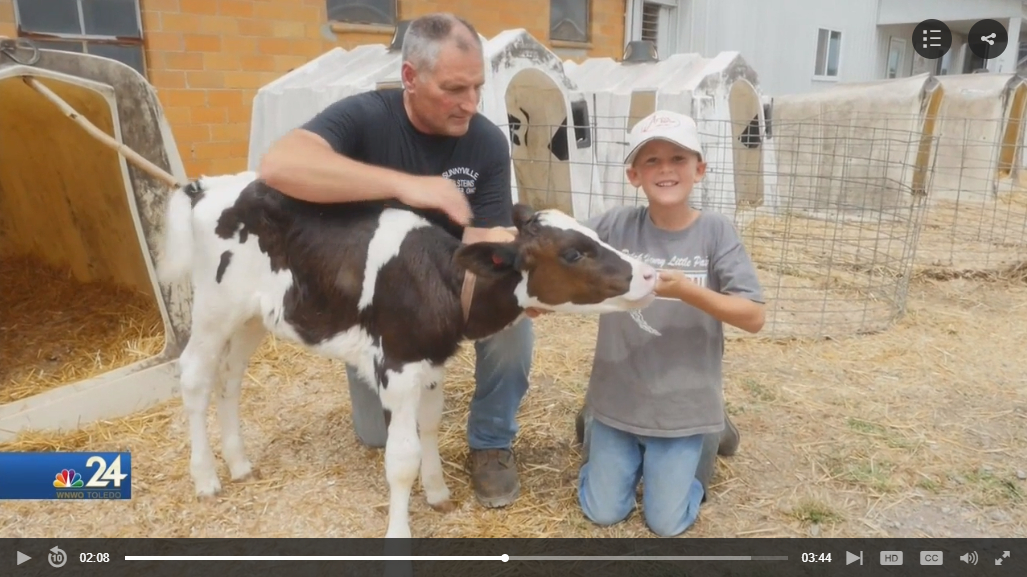 If you missed Toledo's NBC 24 news yesterday evening, you likely missed the interview Arps Dairy producer Mark Seedorf gave to NBC 24's Karaline Cohen regarding the struggles facing small dairy farms.  During the interview, Mark shared with Karaline that throughout Henry County, Ohio, there are maybe 10 dairy farms left, compared to the approximately 25 to 30 Henry County dairy farms in operation just 20-30 years ago.  NBC 24 news reporter Kaily Cunningham added that the USDA estimates that, "Ohio has lost 180 dairy farmers in the last two years".
"Financially it's a struggle – it really is," Seedorf stated.  A major factor contributing to the dairy decline is a change in consumer habits fueled by misinformation.  "A lot of people are switching to an almond milk, which really is not milk," Seedorf continued.  In recent years, several vegan lifestyle activists and other anti-dairy organizations have used their social media following to paint a negative picture for real milk, encouraging individuals to switch to plant-based alternatives.  These plant based alternatives market themselves as being "milk", which implies they are produced in the same fashion and contain the same inherent health benefits as real milk, which is not the case.  There is some good news on the horizon for family dairy farms, though, as last week Policico reported that, "The head of the FDA said that the Trump administration will move to crack down on the use of the term "milk" for nondairy products like soy and almond beverages".
NBC 24's Cohen reported that, "In addition to milk consumption trends, milk prices have dropped. According to an Ohio State University study, at its peak in 2014, milk prices were averaging more than $23 dollars per a 100 pounds."
"Right now we are getting $14.99 per every hundred pounds," Seedorf commented.
Arps Dairy President and CEO Lambert VanderMade, who is also a life-long dairy farmer himself, wrote about milk prices and the effects on family dairy farms in a March 19, 2018 Arps Dairy blog post titled "Support Local Dairy Farmers Everywhere – Buy Dairy".  "You may not have heard, but these days are tough days for your local dairy farm families. Milk prices are low and supply is long. Milk being used as a loss-leader (an item sold far below cost to lure people into the store) doesn't just hurt retailers, and dairy processors… it also hurts your local dairy farmers."  As goes the law of supply and demand, with an excess of milk being produced and a shrinking consumer base, milk prices have dropped to the point were, according to VanderMade, "Many farms aren't sure they will be able to make it much longer. Dairy papers are already filling up with auction listings, and one milk Co-op even sent their farms mental health and suicide prevention information."
In Seedorf's interview with NBC 24's Karaline Cohen, Mark did mention that his farm has made investments in technology to help reduce the cost of production, but those cost saving measures can only go so far.  When the dairy decline began just short of a decade ago, Seedorf invested in robotic milkers, which according to Cohen, "Saves farmers up to eight hours a day.  The machine cleans the cow, latches on, and does the rest."  In addition, Seedorf also made a shift in the company the sell their milk to.  According to Cohen, "Their last company was charging so much to ship the product, they couldn't keep up.  They now work through Arps Dairy in Defiance which keeps their milk local."
You might be wondering, "What does this have to do with me, the consumer?  How can I help?"  VanderMade said it best in his Arps Dairy blog article mentioned earlier:
"Buy dairy.  It's as simple as that. Today's dairy case offers many choices to accommodate the different consumers' needs and wants. Having trouble deciding which one to buy? Perhaps ask your local retailer or even your local dairy farmer what they would advise.  They are, after-all, the ones who put hours and hours of hard work into it. Another way to ensure you are supporting your local farm families is by checking out the web. Checkout your favorite dairy brand's website and see if they share where their milk was produced and who those farm families are that you support when buying their product."