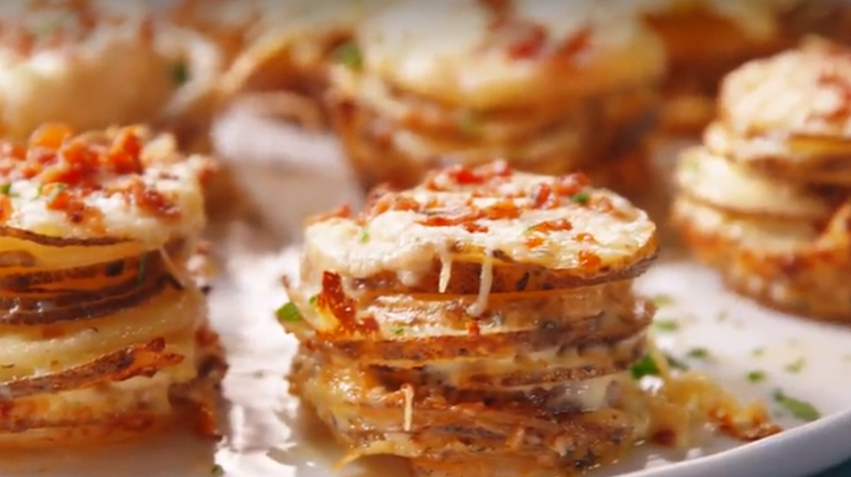 For day 3 of our 10 days of Thanksgiving, we would like to share this Potato Gratin Stacks recipe with you.  These Thanksgiving day appetizer snacks are not only super easy to make, but they are super delicious, especially when topped with Arps Dairy's cool and tart Sour Cream.
| | | | |
| --- | --- | --- | --- |
| EASE | PREP TIME | TOTAL TIME | YIELD |
| Easy | 10 Minutes | 1 Hour and 10 Minutes | Makes 12 |
Ingredients
2 lb. peeled russet potatoes, thinly sliced
1 1/2 c. Arps Dairy Half-and-Half (or Arps Dairy Whole Milk)
1 tsp. garlic powder
1/4 tsp. nutmeg
1/2 tsp. Freshly ground black pepper
2 tsp. chopped thyme
1 tsp. kosher salt
1/2 c. finely grated Parmesan
1/2 c. shredded Gruyère
2 slices bacon, fried and crumbled
fresh chopped parsley, for serving
Arps Dairy Sour Cream (for topping)
Instructions
Preheat oven to 350° and grease a standard 12-cup muffin tin with cooking spray.
Toss potatoes in Arps Dairy Half-and-Half, garlic powder, nutmeg, pepper, thyme, salt, and Parmesan. Divide the potato mixture between muffin tin cups to create 12 potato stacks. Cover with foil and bake until tender, 40 minutes.
Uncover the muffin tin and top each potato stack with gruyère and bacon. Bake until cheese is melted and the sides are beginning to turn golden, 20 minutes more. Garnish with parsley and let cool in pan for at least 10 minutes before serving.
Top with Arps Dairy Sour Cream and serve warm.