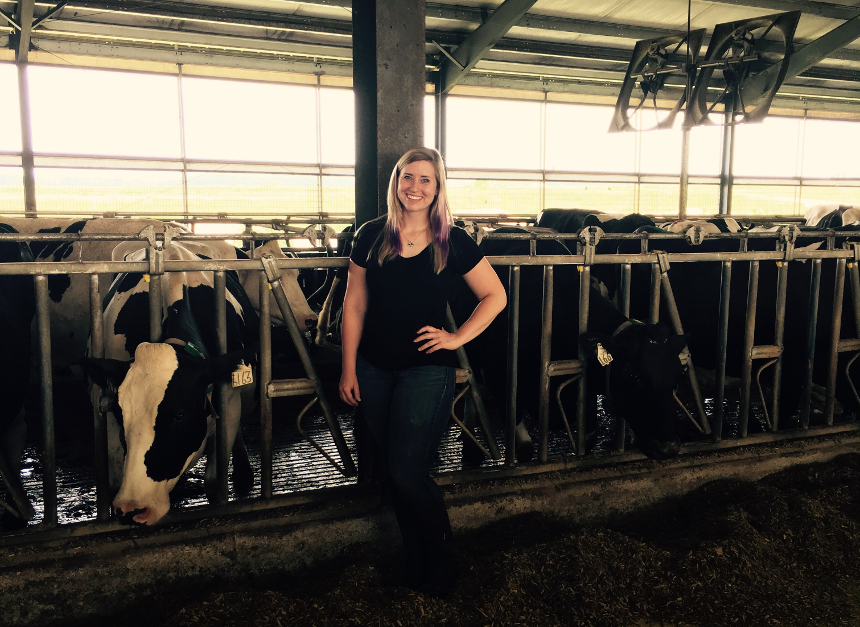 "My true passion is cows! I absolutely love working with dairy cows. I always love learning new areas within the dairy industry, so I am excited to start another new journey with Arps as their Field Representative working with the farmers on milk quality." – Kayla Chapman
Kayla Chapman is Arps Dairy's Field Rep and FARM Evaluator. This is a unique role that has direct interaction with all of our local family farmers. As the Field Rep, Kayla functions to be available to all of Arps Dairy's local family farmers to assist them with any opportunity that may arise. Kayla's primary focus is on milk quality, to ensure that each drop of raw milk obtained from our local family farmers not only meets, but exceeds the Arps Dairy quality standards, which is much more strict than the quality standards required by regulation.
As the FARM Evaluator, Kayla functions to ensure that all of our local family farms exceed the animal care requirements set forth by the national Farmers Assuring Responsible Management (FARM) program. The FARM program was developed with input from farmers, processors, veterinarians and activists to ensure that dairy cows are treated with the utmost respect and in the most humane manner possible. This program is unique in that it requires evaluators to certify that farms are in fact meeting the strict animal care requirements to be FARM program qualified.
Kayla grew up in Northeast Ohio and graduated from the Ohio State University with a Baccalaureate in Animal Science and an Associates Degree in Veterinary Technology and is therefore a Registered Veterinary Technician. "I have been working in the large animal/dairy industry since graduating college," Kayla stated. "I have experience working as a Process Manager on a dairy farm where my chief responsibilities were developing protocols, conducting training and ensuring optimal cow health."
Kayla continued saying, "My true passion is cows! I absolutely love working with dairy cows. I always love learning new areas within the dairy industry, so I am excited to start another new journey with Arps as their Field Representative working with the farmers on milk quality."