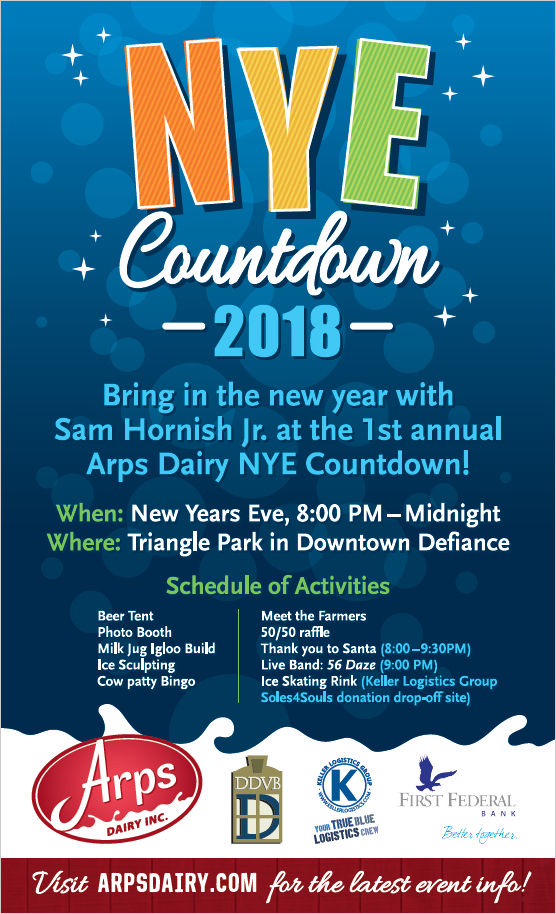 [powr-countdown-timer id=49d74802_1510672410]
Arps Dairy and the Defiance Development & Visitors Bureau excitingly invite you to the inaugural Arps Dairy NYE Countdown event, which will be held in the streets of Defiance, Ohio (on W 3rd St. between Clinton and Perry) on December 31, 2017. Together, we will ring in the New Year in Time Square style with a parade, live musical entertainment, food and adult beverages, and fun activities the whole family will enjoy.
In addition to the event schedule listed below, we will be holding charitable raffles (50/50) and Cow Patty Bingo with proceeds benefiting the Defiance Splash Pad. If you want to buy NYE 2018 memorabilia, individuals will be selling flare with proceeds to benefit the Food Pantry, and the local Boy and Girl Scouts will be selling pop, chips and candy with proceeds to benefit their scouting activities. Additionally, for those anticipating needing a room for the night, the DDVB has an extensive listing of area lodging for Bed and Breakfasts, Campgrounds, and Hotels.
Bring your own skates – or – use free skates sponsored by Keller Logistics Group (40 pair of variable sizes available, first come first serve).
Community leaders working to donate to youth oriented activities, events, and facilities.
8:00 PM: The Keller Logistics Group Soles4Soles Donation Center Opens
Through the collection and sale of used (and new) shoes, Soles4Souls helps create self-sustaining jobs that generate desperately needed revenues throughout impoverished communities, both in the United States and worldwide.
8:00 PM: Local Artists (Ice Sculpting/Painting) Begins
More info to come 🙂
8:00 PM: Kids Thank You to Santa Starts
Santa will make an appearance for you children to bestow him with their gratitude for their wonderful gifts!
8:00 PM: Community Igloo Building Project
Allow your kids to work together to build a massive igloo out of Arps Dairy milk containers.
8:00 PM: Petting Zoo Opens
Talk to real dairy farmers and allow your children to interact with the local cows who provide their food.
Pictures will be available on Arps Dairy's Facebook Page and Website.
8:30 PM: Parade Begins
If interested in participating in the Arps Dairy NYE Countdown parade, please Contact Us!
9:00 PM: Live Music by 56DAZE (NO COVER CHARGE!!)
An amazingly talented band from Perrysburg, Ohio with a range of musical genres.
12:00 AM: Sam Hornish Jr. Counts Down the Arps Dairy "Milk Jug Drop" – Ring in the New Year.
A HUGE thank you to local legend Sam Hornish Jr. for counting down Defiance, Ohio's version of NYC's Time Square ball drop.
(Note: Schedule is tentative and subject to change)